Monsters in America by W. Scott Poole (pub date 10/15/11)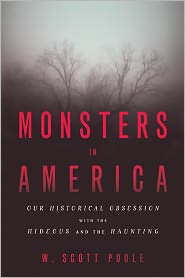 In case you couldn't tell by now, I love horror and I really love Halloween.  So let's kick off the Halloween season with a look at a book about some real-life horrors that are uniquely American.
 
Monsters in America is a non-fiction piece which examines the horror genre in the context of American history.  Each chapter focuses on a different period in our history and asks "What were Americans afraid of at that time, and why?"  Starting with the colonial years and the fear of witchcraft, the book moves through the Civil War and early 20th century and examines Americans' fear of "foreign savages."  When horror became a source of entertainment, our real fears were soon exploited for popular books and films.
 
Poole clearly did his homework in reasearching this book.  His attention to detail both in describing the eras of American history and the evolution of the horror genre is amazing.  His insight into horror is interesting and refreshing.  Poole moves beyond the obvious and lends a different perspective to the book.  It's pretty much common knowledge that the "mutated monster" movies of the Cold War era were a result of Americans' fear of nuclear war.  But Poole also explores how much of the imagery in horror movies of the 70s and 80s were a commentary on the sexual counter-revolution.  Even as someone who wrote a term paper on horror cinema during my undergrad years, that was not something I had really thought about before.
 
I have only one caveat: this is no easy read.  This is a dense work, written mostly in a dry, academic tone, and with very few illustrations to break up the monotony of the text.  It's unfortunate, because a topic as fascinating as this deserves to be read, and this writing style may end up putting some readers off.  Still, if you are interested in history and enjoy horror, give Monsters in America a try.  If anything it'll get you in the mood to watch your favorite scary movies this Halloween!