May the Road Rise Up to Meet You by Peter Troy (pub date 2/28/12)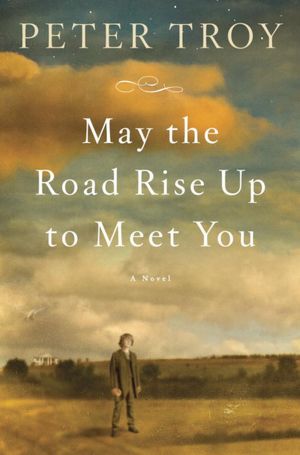 "Ethan lad, if it's a happy tale you're after, then sure you was born in the wrong land."
I'm not really Irish, except on St. Patrick's Day of course.  But as wife to an Irish-Italian husband and in-law to a "wicked cool" Boston Irish family, I'd like to think I know a thing or two about Irish stories.  Specifically, they're depressing, and they're full of death.
All kidding aside, May the Road Rise Up to Meet You does start out depressing and with a death, but turns out to be a very uplifting story in spite of the heavy subject matter.  Set in the mid-19th century, it starts by telling the story of twelve-year-old Ethan McOwen, who is one of four protagonists in the book.  Still grieving the death of his older sister from the potato famine, Ethan is sent by his mother from Ireland to join his father and brother in America.  He lands in New York, and years later when the Civil War breaks out he joins the Union army's Irish Brigade.
Interwoven with Ethan's tale are the stories of three other characters.  Micah is a black slave who is separated from his family and sold to a cruel master.  Mary, another slave, is treated kindly by her masters yet longs to be a free woman.  Finally, Marcella is a young woman from a wealthy Spanish family, disowned by her father for supporting the abolition movement. 
Eventually, all four characters cross paths, and the result is a sweeping saga that turns out to be not just an Irish story or a Civil War story, but an American story.  It's the story of four people trying to find freedom and acceptance in different ways, and the journeys they take to get what they want.  In my opinion, Micah and Mary were the more interesting characters simply because they were so conflicted.  Ethan and Marcella weren't necessarily bad characters but they were a little bit "goody two shoes" and could have used some spicing up.  However don't let this deter you from checking out this book.  So pick up May the Road Rise Up to Meet You for St. Patrick's Day, or if you enjoy American historical fiction!